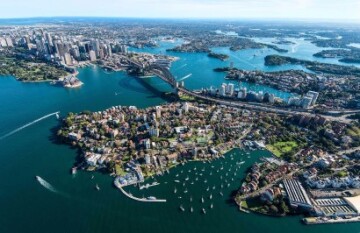 Explore Sydney
Often mistaken as Australia's capital city, Sydney is a vibrant coastal city with plenty to see and do. Starting in Circular Quay you will catch your first views of the two big icons, Sydney Opera House and the Sydney Harbour Bridge. From here you can catch one of the quintessential harbour ferries over to Manly Beach or Taronga Zoo, catching a glimpse of Kirribilli House, the Prime Minister's official Sydney residence, on the way over. Kirribilli is also home to one of Sydney's oldest markets at the Kirribilli Neighbourhood Centre twice a month. It is known for its stalls of vintage clothing, arts, delicious street food and its lively community atmosphere - so if you are in town on a market day, you can't miss it. For a relaxing end to your day of exploration, your dinner options are aplenty. From high-end restaurants around Circular Quay that offer amazing views, to the Chinatown food courts and a broad range of eateries at Barangaroo, you will be spoiled for choice.
Sydney Discover 24h Hop On Hop Off with Big Bus Tours
Experience all the excitement of Australia's famous Harbour city aboard the Big Bus Sydney and Bondi Beach, open-top double-decker buses. The Sydney tour is the perfect introduction to this dynamic city, showcasing the iconic landmarks including the impressive arch of the Sydney Harbour Bridge, the glorious Sydney Opera House and the sparkling waters of Sydney and Darling Harbour. The tour passes bustling shops, restaurants and attractions set amongst Colonial, Victorian and postmodern architecture.
SUGGESTED ACTIVITY - Scenic Flight & Broken Bay Pearl Farm Experience with Sydney Seaplanes
Depart from the Seaplane Terminal at Rose Bay late morning and enjoy the breathtaking views as you fly over the neighbouring harbour, where the Pittwater and Hawkesbury Rivers converge. You will touch down on the Hawkesbury River near Mooney Mooney on the Central Coast, where you will be greeted by pearl farm staff and taken to their Shellar Door. Here you will be immersed in the history of Australian pearls and get hands-on with pearl grading and valuation with pearls from different regions across Australia. After your tour you can sit back and take in the beautiful views as you enjoy your Pearlers' Platter lunch and choice of wine. On your flight back to Rose Bay you will soar past the Sydney Harbour Bridge and famous Opera House, so remember to have your camera at the ready.
SUGGESTED ACTIVITY - Sydney Opera House Tour
Step inside an iconic landmark. The Sydney Opera House is one of the world's most recognisable landmarks and this is your chance to truly get up-close. Run your hands over the world-famous shell tiles, take a seat in the elegant custom-made white birch timber chairs and marvel at the vaulted ceilings. Visit areas off-limits to the public and capture photographs from rare vantage points. Watch unforgettable moments from past Concert Hall performances, learning about the history and future of this world-famous hall in an immersive digital experience. Experience the future within a purpose-built venue that boasts heritage-inspired interiors, and state-of-the-art technology, including 270-degree visuals and surround sound.
From the jaw-dropping sweep of the sails to our soaring cathedral interiors, it is impossible to complete a tour of the Sydney Opera House without being compelled to look up.