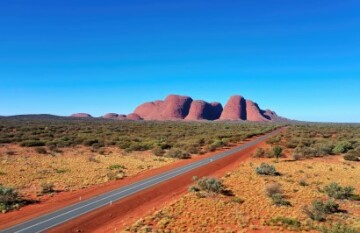 Uluru-Kata Tjuta National Parks Pass
The Uluru-Kata Tjuta National Parks Pass allows entry to explore these universally recognised natural wonders. You will be required to show your Uluru-Kata Tjuta Parks Pass at the park entry gates before entering Uluru-Kata Tjuta National Park. Please have your pass ready to be scanned prior to arriving at this location.
Explore Uluru-Kata Tjuta National Park
Discover the spiritual heart of the Australian Outback. Home to the Uluru-Kata Tjuta and Watarrka National Parks, this desert region is blessed with natural wonders, world-class dining experiences and rugged beauty.
Visit local galleries to discover local Indigenous art and culture, take a scenic flight, or choose from one of the established walks in the region, from short ones suitable for very young children to the full 10.6-km loop around the base of Uluru.
Uluru-Kata Tjuta National Park
More than just a photo opportunity, this national park holds the wisdom of ancient lands and their custodians - a living cultural landscape where the earth and its people exist as one. It is, of course, home to the awe-inspiring rock formation, Uluru. This natural feature is famous for the way the light plays on it during spectacular sunrises and sunsets and can be viewed from specially created viewing areas depending on the time of day you visit. If exploring geological marvels is a highlight for you, the domes of Kata Tjuta are just as spectacular as Uluru. The Anangu, the traditional owners of this land, believe that the physical landscapes of Uluru-Kata Tjuta were shaped by ancestral beings who still exist here today. At the entrance of the park you will find the Cultural Centre, a free-form structure built entirely from locally-made mud bricks. Here you can learn about the Anangu, their culture and the area's natural environment. You can also marvel at traditional and contemporary art at the park's galleries, or check out the stunning art installation that overlooks the park, the Field of Light, after dark.
Uluru Hop on Hop off - 1 Day Pass
One day pass entitles you to visit and enjoy Uluru unlimited times throughout a 24-hour period, from sunrise to sunset. This pass also entitles you to one only transfer to Kata Tjuta (Olgas) within that calendar day also.
SUGGESTED ACTIVITY - Lizard Safari Uluru & Kata Tjuta Tour with Ayers Rock Scenic Flights
Take to the skies for this scenic flight, first journeying over the iconic Uluru and the neighbouring domes of Kata Tjuta that will leave you speechless. You will then fly over Lake Amadeus, the Northern Territory's largest salt lake that displays an amazing contrast of colours. Keep an eye out over the desert landscape for native animals and wild camels that roam the sands of Australia's red centre. Don't forget to bring your camera along for this amazing experience over the Australian desert.
SUGGESTED ACTIVITY - Sunset Camel Experience
Travel for one hour on friendly camels in the spectacular desert landscape. Bringing you closer to nature, the skilled cameleers share stories of the Territory.
Enjoy stunning views of Uluru and Kata Tjuta as you watch the colour change while the sun sets from atop a sand dune. Return to the farm at twilight to relax and enjoy Australian beer, wine, champagne and outback bush foods including their famous freshly baked beer bread damper.