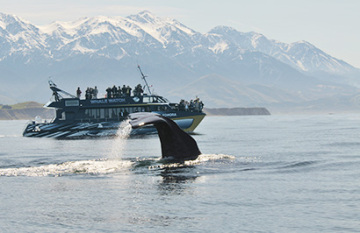 Collect your rental car
Our rental car range includes the latest vehicles from the top suppliers. We have a fantastic range, from economy hatchbacks to prestige sedans and SUVs. Insurance can often be included with a small excess or deductible.
GPS navigation
Navigating New Zealand can be done easily in two ways. If you have a smartphone, you will be able to connect it to the USB of your rental car and your maps and other apps will display on the screen in the centre console of your vehicle, with the sound coming through the car speakers.
If you don't have a smartphone, chat to us to ensure we book you a car with a portable GPS system. Your portable GPS features a simple touch screen interface, with automatic route calculation and turn-by-turn voice-prompted directions, which announces street names. The automotive-grade GPS unit is easy to use and has multiple language options.
Christchurch to Kaikoura
The drive north from Christchurch to Kaikoura takes you through the rolling hills of North Canterbury's major wine region, the Waipara Valley. Allow time for a detour and visit Hanmer Springs for a dip in the mineral hot pools. Continue on and cross the Hawkswood Range before descending to the spectacular Kaikoura coastline - where the road hugs the ocean for the last leg of the drive.
Whale Watch Kaikoura
Experience New Zealand's only marine based whale watching company. Whale Watch Kaikoura offer a once-in-a-lifetime, up close encounter with the giant Sperm Whale. You are also likely to encounter New Zealand fur seals, dusky dolphins and albatross. Depending on the season you may also see pilot, blue and southern right whales as well as migrating humpbacks. Often orcas can be spotted here and the world's smallest dolphin, the Hectors, occasionally make an appearance.
Cruise in style on modern catamarans, specifically designed for whale watching, featuring large passenger cabins and outside viewing decks. Passenger numbers for each tour are kept below the vessel carrying capacity to ensure your tour experience remains a personal one.