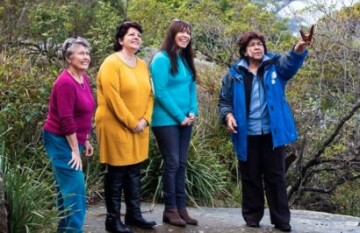 Explore Sydney
Often mistaken as Australia's capital city, Sydney is a vibrant coastal city with plenty to see and do. Starting in Circular Quay you will catch your first views of the two big icons, Sydney Opera House and the Sydney Harbour Bridge. From here you can catch one of the quintessential harbour ferries over to Manly Beach or Taronga Zoo, catching a glimpse of Kirribilli House, the Prime Minister's official Sydney residence, on the way over. Kirribilli is also home to one of Sydney's oldest markets at the Kirribilli Neighbourhood Centre twice a month. It is known for its stalls of vintage clothing, arts, delicious street food and its lively community atmosphere - so if you are in town on a market day, you can't miss it. For a relaxing end to your day of exploration, your dinner options are aplenty. From high-end restaurants around Circular Quay that offer amazing views, to the Chinatown food courts and a broad range of eateries at Barangaroo, you will be spoiled for choice.
Barangaroo - suggestion
One of Sydney's most recent and ambitious renewal projects, Barangaroo belies very little of its former life as an industrial container terminal. Weaving along the water's edge, the precinct is bursting with incredible eateries, parklands, exciting shopping, cultural experiences, and the six-star Crown Hotel. Coming from Walsh Bay, begin your exploration by dipping into Barangaroo Reserve.
This large landscaped green space provides beautiful vantage points, lovely lawns, and the purpose-built Cutaway event space. Not to be missed is the important audio-visual artwork Wellama, which welcomes visitors to Gadigal country, and the multimedia Indigenous experience Ngangamay, embedded in the sandstone and accessed via a downloadable app, that honours Barangaroo, the powerful Aboriginal woman after whom the precinct is named.
The Rocks Aboriginal Dreaming Tour (Illi Langi) with Dreamtime Southern X
Be touched by the most ancient human culture on earth in a 90-minute leisurely walkabout with an Aboriginal guide in The Rocks, and journey into DreamTime, the culture of Aboriginal People. Get inspired as you discover the oldest ecology, conservation, sustainability, astrology and spiritual beliefs on earth today. Connect with Australian skies, lands and waters, and the experiences of 'always walking Country'. Feel empowered by learning how to teach others to navigate Dreamtime pathways, whenever, in the city or out in the bush.
SUGGESTED ACTIVITY - Hop On Hop Off Harbour Explorer 1 Day Pass
When in Sydney travel like the locals do, on the harbour highway. The best harbour destinations have been combined into one easy to follow ferry timetable. This pass gives you the flexibility to hop-on and hop-off as you like, with the expert local guidance of our onboard crew.