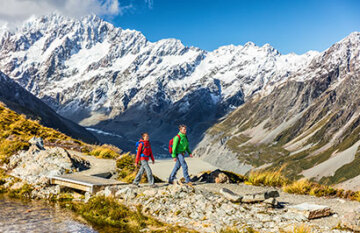 Collect your rental car
Our rental car range includes the latest vehicles from the top suppliers. We have a fantastic range, from economy hatchbacks to prestige sedans and SUVs. Insurance can often be included with a small excess or deductible.
GPS navigation
Navigating New Zealand can be done easily in two ways. If you have a smartphone, you will be able to connect it to the USB of your rental car and your maps and other apps will display on the screen in the centre console of your vehicle, with the sound coming through the car speakers.
If you don't have a smartphone, chat to us to ensure we book you a car with a portable GPS system. Your portable GPS features a simple touch screen interface, with automatic route calculation and turn-by-turn voice-prompted directions, which announces street names. The automotive-grade GPS unit is easy to use and has multiple language options.
Christchurch to Aoraki Mount Cook National Park
Today you'll drive through the heart of the South Island, crossing the vast Canterbury plains. Catch your breath in Geraldine before continuing through Fairlie. Ascending Burkes pass you'll come to the picturesque lakeside town of Tekapo.
Follow the road and take in the view of Aoraki Mount Cook (New Zealand's tallest mountain) from the shores of Lake Pukaki, known for its glacier fed turquoise blue colour. Continue along the lake to your final destination Mount Cook Village.
Please note: There are no food shops at Mount Cook, and dinner options are limited to one restaurant. If you wish to self-cater, you must stock up before arriving in Mount Cook, or make dinner reservations in advance.
SUGGESTED ACTIVITY - Glacier Explorers Mt. Cook
Experience 500 year old icebergs up-close on the Mt Cook terminal lake. The Glacier Explorers tour is the only one of its kind in New Zealand and one of only three in the world! Very few glaciers terminate into lakes and even fewer of them are accessible. See towering ice cliffs and floating icebergs from the safety of a specially designed boat. These boats provide a safe way to view unseen and inaccessible areas of New Zealand's largest glacier The Tasman.
SUGGESTED ACTIVITY - Big Sky Stargazing
Mount Cook is far from the city lights and therefore has some of the darkest skies in New Zealand, perfect for viewing the night sky! Their fully trained guides are delighted to show you the beautiful southern night sky using the naked eye, state of the art astronomy telescopes and binoculars at the outdoor viewing platform. If the weather is not favourable then there will be an indoor alternative featuring New Zealand's first full dome digital Planetarium, a high-definition video images on a suspended 9m wide x 4.5m high full dome. Unleash your imagination as you discover the night sky including the Southern Cross, seasonal ecliptic objects, planets, star clusters, moons, distant galaxies and even our very own galaxy, the spectacular Milky Way!