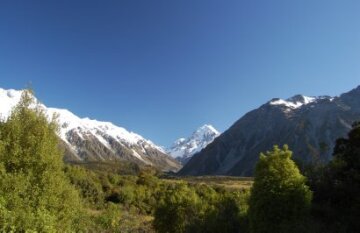 Queenstown to Aoraki Mt Cook National Park
Leaving Queenstown you'll head through the Kawarau Gorge and over the historic Kawarau Bridge, a popular bungy jumping location. Choose to participate in this daredevil sport or watch others instead. Continue through Gibbston and be sure to stop at one of its many vineyards for a tasting. As you leave the gorge you'll arrive in Cromwell, known for its many fruit orchards. If you're a foodie at heart, we recommend taking a side trip to Bannockburn for a complete food and wine experience at one its many award-winning wineries and restaurants.
Cromwell itself sits at the head of the Kawarau Gorge and the old historic town is well worth the visit. Completely submerged when the Clyde Dam was built and Lake Dunstan established in 1992, the remnants of the old Cromwell town provides a unique snapshot into this areas history. Head over through the Lindis Pass, one of New Zealand's highest roads, with the summit reaching 971 metres. It's tussock covered hills are a barren but beautiful sight as you descend into the Mackenzie Basin. You'll go through the towns of Omarama and Twizel, the last stops before you arrive at Lake Pukaki and take the Aoraki Mt Cook Highway to arrive in the small village.
Please note: There are no food shops at Mt Cook, and dinner options are limited to one restaurant. If you wish to self-cater, you must stock up before arriving in Mt Cook, or make dinner reservations in advance.
SUGGESTED ACTIVITY - Glacier Explorers Mt. Cook
Experience 500 year old icebergs up-close on the Mt Cook terminal lake. The Glacier Explorers tour is the only one of its kind in New Zealand and one of only three in the world! Very few glaciers terminate into lakes and even fewer of them are accessible. See towering ice cliffs and floating icebergs from the safety of a specially designed boat. These boats provide a safe way to view unseen and inaccessible areas of New Zealand's largest glacier The Tasman.
SUGGESTED ACTIVITY - Big Sky Stargazing
Mt Cook is far from the city lights and therefore has some of the darkest skies in New Zealand, perfect for viewing the night sky! Their fully trained guides are delighted to show you the beautiful southern night sky using the naked eye, state of the art astronomy telescopes and binoculars at the outdoor viewing platform. If the weather is not favourable then there will be an indoor alternative featuring New Zealand's first full dome digital Planetarium, a high-definition video images on a suspended 9m wide x 4.5m high full dome. Unleash your imagination as you discover the night sky including the Southern Cross, seasonal ecliptic objects, planets, star clusters, moons, distant galaxies and even our very own galaxy, the spectacular Milky Way!