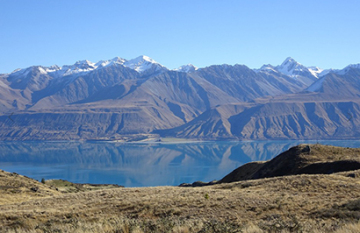 Aoraki Mt Cook National Park to Christchurch
Leaving Aoraki Mt Cook National Park, travel a short distance before stopping at the visitor centre on the southern shores of Lake Pukaki. Learn about the formation of the region and take in the spectacular views of Mount Cook. Lake Tekapo also displays the same reflective qualities of Lake Pukaki, making the waters a bright turquoise. You'll go through the small town of Tekapo, home to some of the most photographed subjects in the country, the Church of the Good Shepherd and the Collie Dog statue. It's a great place to take a scenic flight, enjoy a guided horse trek, a boat trip on the pristine lake or just marvel at the magnificent views. From here you travel through Burkes Pass and into the rich farming valley that surrounds Geraldine. Continue on across the vast Canterbury Plains to arrive in Christchurch City, your destination for the night.
SUGGESTED ACTIVITY - Discover Christchurch Afternoon Tour
A half day sightseeing tour of Christchurch highlighting both the damage to the city inflicted by several large earthquakes in 2010 and 2011 and the rebuild which is currently in progress, together with the surviving beauty of the city and the historical landmarks. Experience the grand architecture, beautiful gardens and scenic viewpoints on a half-day city tour of Christchurch.
The tour commences in the central city of Christchurch and covers the area which was completely devastated by the Christchurch earthquakes in February 2011. The guide will explain both the history of the city and the effects of the earthquake. On leaving the inner city, the tour travels to Mona Vale a historic homestead and gardens. Then you will travel to the Sign of the Takahe, a historic building with a lookout providing spectacular views over the city, Canterbury Plains and to the Southern Alps. The tour then travels via the Port Hills and Lyttleton Harbour by way of the Sign of the Kiwi and Governors Bay to the Port of Lyttleton. The tour proceeds through the Lyttleton harbour tunnel to the seaside suburb of Sumner and cave rock before returning to the central city where the tour will conclude.
SUGGESTED ACTIVITY - Christchurch Gondola
In the Heathcote Valley, just fifteen minutes from the heart of Christchurch City, ride the Christchurch Gondola for nearly a kilometer to the collapsed rim of an extinct volcano, which exploded six million years ago. Take in the spectacular panoramic views of the central city, Lyttelton Harbour, Banks Peninsula, Canterbury Plains, and the distant peaks of the Southern Alps. Wander the summit complex, enjoy a coffee or lunch in the cafe, and choose one of many nature walks to explore or visit the Christchurch Discovery Rice, a dramatic reconstruction of the history of the Port Hills and Christchurch.