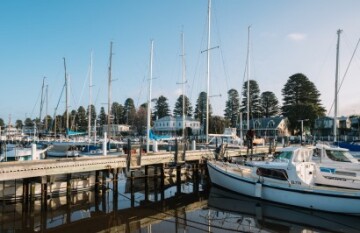 Apollo Bay to Port Fairy
The first part of your drive today will take you to the iconic Twelve Apostles, perhaps the most famous landmark on the Great Ocean Road, and stopping here is a must. You can park at the carpark and follow the paved path to the lookout, or to take some time and stretch your legs take the path down Gibson's steps to the beach. Descending down these 86 stairs carved into the cliff face, reaching the beach you are treated to a closeup view of these incredible rock formations. 3 minutes further along what is known as the Shipwreck Coast, you will find the stop-off point for Loch Ard Gorge, a glistening inlet of striking blue water surrounded by sheer sandstone cliffs. Beyond the town of Port Campbell, stop at the London Bridge and The Grotto for more stunning sights and photo opportunities.
Explore the coastal city of Warrnambool where you might be lucky enough to spot southern right whales calve off Logan Beach if you are travelling between May and October. From here, it's a 30-minute drive to your destination of Port Fairy.
Port Fairy
The last destination on Victoria's famed Shipwreck Coast, Port Fairy is home to wide streets lined with nineteenth-century cottages, old stone churches, and great Norfolk pines. Here, you can have the opportunity to see native animals in the wild - from southern right whales, seals and dolphins to wallabies, kangaroos and emus. Tower Hill, Victoria's first ever National Park, is the ideal place to get up close and personal with some of these native animals. Enjoy a relaxing swim at the local beaches or catch a wave at The Passage point break, before relaxing over dinner and a drink at any of the numerous bars and restaurants in town.
SUGGESTED ACTIVITY - 12 Apostles to London Bridge Scenic Helicopter Flight
An energetic, 15 minute flight that packs in the must-see Great Ocean Road sights. Catch the highlights of the Shipwreck Coast from a luxury helicopter. See the 12 Apostles, London Bridge, and more from breathtaking heights. London Bridge is a thrilling addition to any Great Ocean Road tour.
SUGGESTED ACTIVITY - Walk with Wildlife Tour with Wildlife Wonders
Immerse yourself in the wilds of the Otways at Wildlife Wonders, just 5km outside of Apollo Bay. Enjoy a 75-minute guided walk through the magical Otways bushland, where you'll discover lush tree-fern gullies, eucalypt woodlands and spectacular ocean vistas. Your conservationist guide will share with you the secrets of the bush and the plants and animals who call the Otways home.
All the profits from Wildlife Wonders go directly to the Conservation Ecology Centre, working to conserve the unique Australian plants and animals across the Otways.