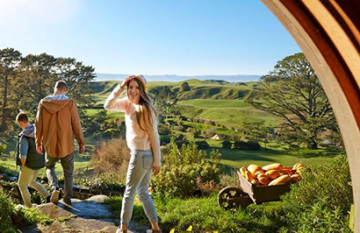 Collect your rental car
Our rental car range includes the latest vehicles from the top suppliers. We have a fantastic range, from economy hatchbacks to prestige sedans and SUVs. Insurance can often be included with a small excess or deductible.
GPS navigation
Navigating New Zealand can be done easily in two ways. If you have a smartphone, you will be able to connect it to the USB of your rental car and your maps and other apps will display on the screen in the centre console of your vehicle, with the sound coming through the car speakers.
If you don't have a smartphone, chat to us to ensure we book you a car with a portable GPS system. Your portable GPS features a simple touch screen interface, with automatic route calculation and turn-by-turn voice-prompted directions, which announces street names. The automotive-grade GPS unit is easy to use and has multiple language options.
Auckland to Matamata and Hobbiton
Head southbound on State Highway one through the lush farmland and dairy pastures of the Waikato region. The Bombay Hills mark the outer boundary of the greater Auckland area and its here you turn inland towards Matamata. This is the real Middle Earth, and you'll see many locations used in the filming of The Lord of The Rings and The Hobbit, as well as visiting the actual set of Hobbiton.
Hobbiton Movie Set tour from Shires Rest
Become immersed in the The Lord of the Rings and Hobbit films when you visit the actual Hobbiton movie set. Located just outside of Matamata in the heart of the lush Waikato farming region, your tour will begin with a drive through a picturesque sheep farm. You'll then be taken through Hobbit Holes, the Green Dragon Inn, the Mill and the Party Tree while your guide shares behind-the-scenes tales and insight into the making of the films.
Matamata to Waitomo
Today you'll head towards the coast to arrive in Waitomo. Stop in historic Cambridge, home to a host of cafes, antique stores and a large village green. Cambridge has the feel of a traditional English country town and noteworthy buildings include St. Andrew's church, the old water tower and original courthouse. Cambridge is also the centre of New Zealand's equine industry, and an impressive bronze horse sculpture pays tribute to its history.
Continue on to Otorohanga, renowned for its celebration of New Zealand's popular culture 'Kiwiana.' Stop for a visit to the 'Kiwi House' a native bird park owned and operated by the Otorohanga Zoological Society, Inc. Dedicated to the conservation of New Zealand's native wildlife. Within the park you will find nocturnal kiwi houses, Tuataras and many native and endangered birds. From Otorohanga it is only a short drive to the limestone hills that mark the Waitomo region and its famous cave complex.