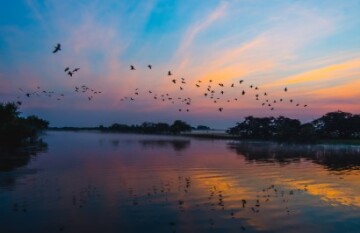 Collect your rental car
Our rental car range includes the latest vehicles from the top suppliers. We have a fantastic range, from economy hatchbacks to prestige sedans and SUVs. Insurance can often be included with a small excess or deductible.
Kakadu National Parks Pass
The Kakadu National Parks Pass allows entry to explore ancient sites such as Ubirr, Jim Jim Falls, Burrunkguy and Maguk. You will be required to keep your Kakadu National Parks accessible when within the National Park and produce to Park Rangers upon request.
Darwin to Jabiru
Set off from Darwin eastbound towards Humpty Doo, the home of the Aboriginal Didgeridoo Hut and Art Gallery. If you're interested in learning more about the local culture the local artists at the gallery can teach you about bush food and medicine, weaving, spear throwing, and playing the didgeridoo. Back on the road, keep an eye out for the Big Boxing Crocodile as you travel along the highway. After about 32km, you will reach the town of Wak Wak, where you can join a Spectacular Jumping Crocodile Cruise. Seize the opportunity to get up close and personal with these giant, prehistoric creatures from the safety of your boat. This one hour cruise will take you out on the Adelaide River and entice crocodiles up to 6 metres long to jump.
If you're interested in learning more about the local culture, head down the road to the family-run Pudakul Aboriginal Cultural Tours where you will learn about local bush food and medicine, weaving, spear throwing and playing the didgeridoo.
When you are ready, continue travelling east on Arnhem Highway. Mary River National Park is a beautiful wetland reserve located down the road from Wak Wak. Bird lovers will be spoiled with the diversity of species living here and will have plenty of opportunities to spot them while cruising the billabongs. For the anglers out there you can also enjoy world-class fishing, with the opportunity to catch barramundi, getting up to 1.4m in length!
From here it is a very straightforward drive to Jabiru, the main township of Kakadu National Park.
SUGGESTED ACTIVITY - Guluyambi Cultural Cruise
Take a journey on the East Alligator River on the Guluyambi Cruise with a local Aboriginal guide. This provides you with an insight into their culture & local mythology, the river's abundant food chain, traditional uses for many plants & animals as well as bush survival skills. 'Guluyambi' means paperbark raft, however, don't fret, this vessel will safely travel up and down the East Alligator river, revealing the wonderful pristine wilderness of Kakadu National Park. There is also an opportunity to step off the boat into Arnhem Land and witness spear throwing. At the upstream boat ramp where you will embark on the Guluyambi Cruise, there are sometimes local artists painting using traditional methods. If you wish to purchase any pieces of art at the boat ramp, please bring cash as card is not accepted.