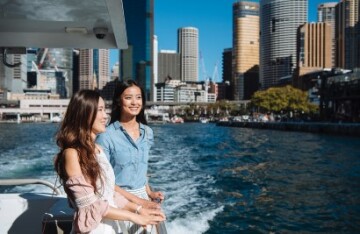 Sydney
Sydney is Australia's largest city and the vibrant capital of New South Wales. The city was founded in 1788 with the arrival of the first fleet of convicts and soldiers, although the area has been inhabited by indigenous Australian ancestors who came to Australia between 15,000 and 45,000 years ago. Today, Sydney is a major international capital of culture and business, and also a key tourist destination recognised across the globe. Most famed for the unique Sydney Opera House, the city is also known for its beautiful surrounding beaches and as a gateway to popular sightseeing regions such as the Central Coast, the Blue Mountains and the Hunter Valley.
Hop On Hop Off Harbour Explorer 2-Day Pass
When in Sydney travel like the locals do, on the harbour highway. The best harbour destinations have been combined into one easy to follow ferry timetable. This pass gives you the flexibility to hop-on and hop-off as you like, with the expert local guidance of our onboard crew.
The Royal Botanic Gardens Sydney - suggestion
Located on the lands of the Cadigal Peoples, the Royal Botanic Gardens of Sydney are Australia's oldest scientific institution and one of the oldest botanic gardens in the Southern Hemisphere. Located just a short walk from Circular Quay and Hyde Park, the garden looks out over Sydney Harbour and has thousands of plant specimens. Wildlife in the garden includes colourful birds, fruit bats and water dragons. The Calyx is a world-class horticultural space, with changing exhibitions designed to capture your imagination.
SUGGESTED ACTIVITY - Sydney Harbour Dinner Cruise with Cruise Sydney
Step aboard a modern 78ft cruiser to begin your stunning Sydney Harbour Dinner Cruise. Designed with luxury and superb comfort in mind and with plenty of room on board, expansive main, upper, and sun decks offer 360-degree views of all the harbour's iconic attractions as you sail past. The Sydney Harbour is photogenic at any time, but sunset is particularly special, and once the sun goes down, the gleaming cityscape comes alive in glittering lights. This dinner cruise allows you the opportunity to experience the harbour from both beautiful perspectives.
This dinner experience is a long, lavish affair, with generous meals showcasing locally sourced and regionally influenced delicacies, paired with an expansive collection of beers, wine, soft drinks, tea, or coffee.
Art Gallery of NSW - suggestion
The Art Gallery of New South Wales is one of Australia's flagship art museums and the state's leading visual arts institution. It is visited by over one million people every year. It is a must-see attraction in Sydney for anyone interested in art and culture. It is a place of experience and inspiration. You can admire a renowned collection of Australian and international art and immerse yourself in the stunning art museum campus set in one of the most beautiful cultural precincts. The Art Gallery's diverse collection tells stories of human encounter and cultural exchange and offers insights into the individual creative mind. The Gallery is located in wonderful parklands settings overlooking Sydney Harbour, within short walking distance from the city centre. The Gallery features different exhibitions, events, and daily free guided tours. You can get refreshments from Gallery Cafe or Kiosk, which feature a takeaway menu with native Australian ingredients.
Museum of Contemporary Art Australia - suggestion
The Museum of Contemporary Art Australia (MCA) is Australia's leading museum dedicated to exhibiting, interpreting, and collecting contemporary art from across Australia and around the world. It features more than 4,000 works by Australian artists, with a strong emphasis on Aboriginal and Torres Strait Islander artists. In addition to the permanent collection, it hosts a continually changing range of modern art exhibitions. The museum offers free guided tours, and it is a must-see for anyone interested in art and culture with free time in Sydney. The Museum is housed in the former Maritime Services building, which is a fine example of late Art Deco architecture. It is also a unique shopping destination specialising in Australian and international contemporary art and culture publications. You can get refreshments at the MCA Cafe, which offers modern Australian cuisine with stunning views of Sydney Harbour.