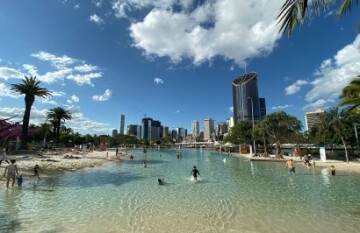 Explore Brisbane
Brisbane is a hub of activities and attractions. With its unique blend of urban sophistication and natural beauty, Brisbane offers something for everybody. Starting the day early, one could begin by exploring the South Bank Parklands, a sprawling riverside precinct filled with lush gardens, walking paths, and stunning views of the city skyline. Take a leisurely stroll along the picturesque Brisbane River, visit the iconic Wheel of Brisbane for a panoramic view, or enjoy a relaxing breakfast at one of the charming riverside cafes. Next, consider delving into the cultural scene by visiting the Queensland Cultural Centre, which houses the Queensland Art Gallery and Gallery of Modern Art (QAGOMA). Art enthusiasts can immerse themselves in a diverse range of local and international artworks, while history buffs can explore the Queensland Museum or the Museum of Brisbane. For a taste of the city's history, a visit to the Story Bridge and Kangaroo Point Cliffs Park is a must. The Story Bridge Adventure Climb offers breathtaking views of the city from its summit, and the Kangaroo Point Cliffs provide a perfect spot for picnics. Afterwards, make your way to the vibrant Fortitude Valley, known for its trendy boutiques, bustling markets, and eclectic mix of cafes and restaurants. Explore the Brunswick Street Mall, discover unique fashion finds, and indulge in a delicious lunch at one of the local eateries. To complete the day, a visit to the Lone Pine Koala Sanctuary is highly recommended. As the world's oldest and largest koala sanctuary, visitors can cuddle koalas, hand-feed kangaroos, and get up close to a variety of Australian wildlife.
Brisbane Street's Beach - suggestion
A South Bank icon, Streets Beach is a must-visit while you're in Brisbane. It is Australia's only inner-city, man-made beach, and it boasts a sparkling lagoon surrounded by white, sandy beaches and sub-tropical plants. It is the perfect antidote to the corporate bustle of the CBD across the river. Streets Beach, with its pristine powder white sand, lifeguards, and permanent huddle of sun-kissed bathers, offers a great spot to cool down and escape the heat. South Bank is also home to a host of free-to-use, public barbeque spots, so why not plan a full day out and make the most of what's on offer in the city's parklands? Streets Beach, Aquativity, and the Boat Pool are free to use and are patrolled by qualified lifeguards all year round.
SUGGESTED ACTIVITY - Return River Cruise and entry to Lone Pine Sanctuary
This popular cruise has been taking visitors to Lone Pine Koala Sanctuary for over 60 years and is a "must-do" experience while in Brisbane. The cruise travels through the city's most historic landscapes, iconic attractions, historical homesites and interesting wildlife habitats as you listen to an entertaining and informative commentary. Enjoy 3 hours exploring Lone Pine, before re-joining the cruise for a relaxing return journey on the river back to the city.
SUGGESTED ACTIVITY - 90 Minute Sight Seeing Cruise with River City Cruises
Cruising along the beautiful Brisbane River, sit back and relax as your skipper takes you along the calm waterways. Aboard the boat, you will get a complimentary Devonshire tea, with a tea or coffee to enjoy along the ride. Throughout your tour enjoy the sights of the city including the Riverside precincts, Kangaroo Point, homes of the rich and famous, historical landmarks, and much much more.