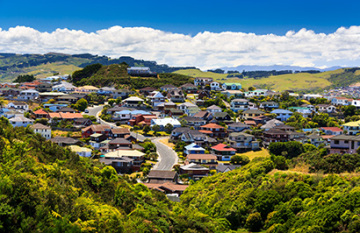 Wellington City
Wellington home to New Zealand's centre of government has a largely cosmopolitan feel. Often referred to as 'mini Melbourne', this (self-described) windy city is a melting pot of art, culture, food, and fashion. Quirky laneway bars, underground art shows, and hipster eateries make up its inner-city vibe, while a host of sandy beaches outside the urban bustle bring a cheerful holiday feel.
Head to Te Papa Museum for a history lesson and a ticket to one of its many international exhibitions or jump aboard the Wellington Cable Car at Lambton Quay - the only running funicular railway in the country. For those with an eye for boutique, fashion wander through Cuba St to sample some of the city's best vintage stores. Break for coffee at a hipster cafe and be sure to snap a pic outside the 'Beehive,' New Zealand's parliamentary debate chamber.
Go behind the scenes at Weta Workshop Experience, the Oscar Award Winning design studio behind Lord Of The Rings, The Hobbit, and Avatar. If you're a foodie at heart, a two-hour round trip to Martinborough is a must-do. Take your time as you wind through spectacular wine country, and be sure to stop in at Martinborough Wines or Ata Rangi Martinborough. For an educational day out, learn about New Zealand's native species at Zealandia, the world's first fully-fenced eco-sanctuary and home to over 40 types of endangered and native birds.
SUGGESTED ACTIVITY - Wētā Workshop Experience
The Weta Cave mini-museum brings you face to face with some of the characters, props and displays from your favourite movies, including The Hobbit and Lord of the Rings movies. Visit Weta Cave Workshop and get up close to the props, weapons and costumes created for The Lord of the Rings, Power Rangers, The Great Wall, Avatar, District 9, and more. See artists at work on the tour stage and peek through windows that look directly into the Workshop. Hear stories from the Weta Workshop crew. Many have worked on the films themselves!
Weta Workshop is also known for its extraordinary miniatures and bigatures created for films like The Lord of the Rings, Furious 7, The Legend of Zorro, and Master and Commander and discover Weta Workshop's latest jaw-dropping creations.
SUGGESTED ACTIVITY - Lord Of The Rings Half Day Tour - Wellington
With some of the best Lord of the Rings tours Wellington has to offer, you will not be disappointed on this tour. You'll visit local filming locations, view a short documentary showing the filmmaking exploits of Peter Jackson and his remarkable team and be guided through the sights and sounds of the Weta Workshop in Miramar. This is followed by a fascinating 'Window into the workshop' exhibition, showing film props and weaponry, with the artists themselves describing how the artefacts were created.