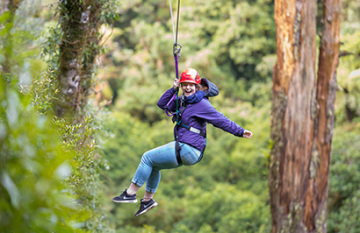 Explore Rotorua
Peppered with natural hot springs, boiling mud pools and steaming geysers, Rotorua sits within one of the worlds most active volcanic regions. Geothermal landmarks aside, this city of sulphur has a rich indigenous history. Home to several prominent Maori tribes, a visit to one of the Maori Villages should be high on your agenda, as should an excursion to the Polynesian Spa for an invigorating soak in its natural mineral hot springs.
Spike your adrenaline at Velocity Valley Adventure Park on stomach-dropping attractions such as static skydiving, or a giant swing reaching 130 km per hour. Alternatively, head up the Rotorua Gondola for soaring lake views, and ride the luge at night for an extra thrill.
Fans of Lord of the Rings and The Hobbit should drive to nearby Matamata and experience the actual movie set 'Hobbiton'. Make the most of your time in Rotorua with an excursion through the Wai-O-Tapu Thermal Wonderland, one of the area's most colourful volcanic attractions.
SUGGESTED ACTIVITY - Agrodome Farm Show and Farm Tour Combo
Set on a 350-acre working sheep and cattle farm with 1200 sheep and 120 beef cattle, the Agrodome gives its visitors a hands-on, live farming experience. The Farm Show stars a cast of talented animals – not just sheep! The remarkable farm dogs will amaze you, as they demonstrate their ability to respond to commands and keep those sheep (and ducks!) in line. Then pop across to the herding area to watch a free live dog trial after the show! Explore the farm and learn the history of New Zealand agriculture on custom designed farm trailers. Along the way, there are fascinating things to learn and a few laughs too! You'll get to hand-feed and take photos with all sorts of friendly animals, including Romney sheep, cattle, deer, llamas, ostrich, pigs and alpacas. Explore the fruit orchard and olive grove and have the chance to taste natural kiwifruit juice and delicious sweet honey that comes from the farm.
SUGGESTED ACTIVITY - National Kiwi Hatchery Tour
The National Kiwi Hatchery Tour is a special opportunity to gain insight into and view this highly regarded conservation centre. Developed with the visitor experience in mind, the hatchery boasts special viewing opportunities and is hosted by kiwi expert guides who ensure guests leave fully informed and all questions answered. Learn all about New Zealand's intriguing national icon and the efforts of the kiwi husbandry team, see and discover what it takes to hatch and rare chicks, and if you're lucky see baby chicks in person!
SUGGESTED ACTIVITY - Te Pā Tū Evening Maori Cultural Experience
New Zealand's Most Awarded Cultural Attraction, presenting Te Pā Tū. Feast on song, drama, tradition, and divine seasonal kai (cuisine) within the forest Pā (village) blanketed by towering Tawa trees, blazing bonfires, and a forest-formed amphitheatre. Te Pā Tū shares Māori history, traditions, and cultural aspirations across 4-hours of celebration and feasting. These events change with each season of the maramataka, the Māori lunar calendar.