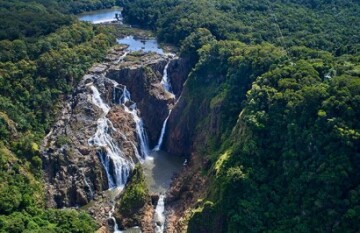 Collect your rental car
Our rental car range includes the latest vehicles from the top suppliers. We have a fantastic range, from economy hatchbacks to prestige sedans and SUVs. Insurance can often be included with a small excess or deductible.
Cairns Free Day
Cairns is known as the gateway to the Great Barrier Reef, and Queensland's tropical north. It is a laid-back town with a relaxed way of life, ideal for people who enjoy the outdoors and tropical nature. Have a stroll along Cairns esplanade, discover open-air markets, and grab a coffee in one of the brilliant al fresco cafes. After that, you can cool off in the sparkling Esplanade Lagoon. This saltwater pool is lined with parks, shady banyan trees, boardwalks, and barbeques. If you feel active and energised, you can join free outdoor exercise classes, such as yoga, zumba, pilates, or beach volleyball, held six mornings a week along the Esplanade. In the afternoon, you can visit Cairns Botanic Gardens, with their spectacular plant collection. The gardens feature rainforest vegetation and many interesting species of flowers. You can bring your own snacks for the picnic or grab a snack in the cafeteria. You should also explore the Cairns Aquarium, which is dedicated to local species and habitats, with over 16,000 specimens on display. It is home to incredible sea creatures, from sharks to snakes. In the evening, enjoy fresh seafood in one of the gourmet restaurants or a refreshing cocktail i a waterfront bar with its amazing ocean views and great vibes.
Cairns to Smithfield
Smithfield is home to the Skyrail Rainforest Cableway Terminal and the drive is a quick 20 minute drive to the outskirts of the city, taking you from the coast to the edge of the rainforest.
Classic Experience with Kuranda Scenic Railway
Experience this scenic journey on the Kuranda Scenic Railway to the 'village in the rainforest'. Your day begins in Cairns as you board the train for a morning departure. Travel through unsurpassed views of World Heritage-listed rainforest and waterfalls, including Stoney Creek Falls and the breathtaking Barron Gorge. You will wind your way through 15 tunnels and over 37 bridges on your journey before reaching Kuranda, where you will have several hours to explore the village. In the afternoon you will board the Skyrail Rainforest Cableway for a journey up and over the rainforest canopy, back to the Skyrail terminal where you will be transported back to the Cairns railway station.
Smithfield to Port Douglas
It's less than an hour to Port Douglas from Smithfield and this short drive offers countless opportunities to stop and admire the breathtaking views, walk along the beach or take a quick dip in the sea. We recommend arriving to Port Douglas before dusk so that you can take in the beautiful sunset over the water.