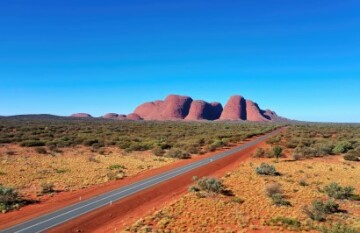 Uluru-Kata Tjuta National Park
More than just a photo opportunity, this national park holds the wisdom of ancient lands and their custodians - a living cultural landscape where the earth and its people exist as one. It is, of course, home to the awe-inspiring rock formation, Uluru. This natural feature is famous for the way the light plays on it during spectacular sunrises and sunsets and can be viewed from specially created viewing areas depending on the time of day you visit. If exploring geological marvels is a highlight for you, the domes of Kata Tjuta are just as spectacular as Uluru. The Anangu, the traditional owners of this land, believe that the physical landscapes of Uluru-Kata Tjuta were shaped by ancestral beings who still exist here today. At the entrance of the park you will find the Cultural Centre, a free-form structure built entirely from locally-made mud bricks. Here you can learn about the Anangu, their culture and the area's natural environment. You can also marvel at traditional and contemporary art at the park's galleries, or check out the stunning art installation that overlooks the park, the Field of Light, after dark.
Uluru-Kata Tjuta National Parks Pass
The Uluru-Kata Tjuta National Parks Pass allows entry to explore these universally recognised natural wonders. You will be required to show your Uluru-Kata Tjuta Parks Pass at the park entry gates before entering Uluru-Kata Tjuta National Park. Please have your pass ready to be scanned prior to arriving at this location.
Uluru Bike Rental with Outback Cycling
The Uluru Bike Ride lets you experience all that Uluru has to offer. In your own pace and time, discover ancient rock art and wonderous waterholes around the base of Uluru. The Outback Cycling Uluru Bike Ride is one of the best-value activity options at Uluru! There are family friendly options for toddlers, kids, and adults. The 15 km journey can easily be cycled in under three hours with plenty of time for photos and exploration.
Didgeridoo Workshop - suggestion
Listen to the enchanting sounds of the didgeridoo. Yidaki, the traditional Aboriginal term for the didgeridoo, was discovered in East Arnhem Land in the Northern Territory of Australia. During this workshop, guests are invited to try and play the didgeridoo.
SUGGESTED ACTIVITY - Wintjiri Wiru Twilight Experience with Voyages Indigenous Tourism
Immerse yourself in the Australian culture through a breathtaking 1-hour storytelling experience through groundbreaking technology and lighting. Be seated in a sustainably built theatre in the desert, in the heart of Australia surrounded by picturesque views looking out towards Uluru and Kata Tuta. On arrival be greeted with a delicious cheese and dessert board with unlimited wine as the darkness falls and the beauty of Uluru becomes a silhouette. Be amazed as you listen and learn about the ancestral Mala story as the sky is lit up and the drones choreograph to tell the story and a deeper understanding of the ancient story.