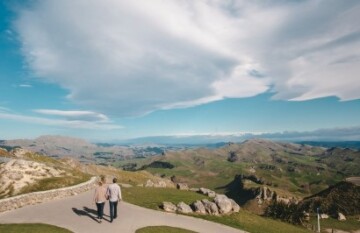 Rotorua to Napier
This drive will take you through the thermal region just south of Rotorua. Home to a plethora of unique geothermal attractions including boiling mud pits, natural hot springs and steaming geysers, this area is a must do before you move on to Napier. Notable attractions are Wai-O-Tapu, Waimangu and Craters of the Moon.
Continue on to Taupo and marvel at the lake, a giant crater formed following a volcanic eruption in the year 180 CE. As you approach the city, be sure to stop at Huka Falls to view the spectacular sight of hundreds of cubic metres of water spilling every second down the narrow 11 metre drop.
For an extra thrill take a jet-boat ride to the base of the falls. Leaving Taupo, follow the road as it climbs the rugged Ahimanawa Range before descending back down the Pacific Coast to art deco Napier.
Walking tracks in and around Hawkes Bay
There are some excellent walks in and around the Hawkes Bay region. The information below is provided by the Department of Conservation. Listed below are a selection of short walks but check with the Department of Conservation information centre for weather conditions, track suitability and conditions first.
Tangoio Falls Scenic Reserve Tracks
Discover Te Ana or Tangoio Falls on a short, easy walk suitable for kids, or take a longer walk through native bush on the Tangoio Walkway. .
Distance: 2 - 4.4 km one way. Completion Time: 30 minutes to 2 hours depending on which track you choose.

White Pine Bush Scenic Reserve
Experience New Zealand's remaining coastal forest on these short, easy walks that are good for children.
Distance: 1.6 km loop. Completion Time: 40 minutes.

Ahuriri Estuary
View a community of wading birds, fish, mud dwellers and aquatic plant life from the estuary track and boardwalk. Over 70 species of resident and migratory waterbirds use the estuary as a feeding and resting area.
Distance: 2.8 km one way. Completion Time: 1 hour.

Te Mata Park
Te Mata Park has a rich human and geological history, and is home to a range of unique plants and native birds. The park has five different walking options varying in difficulty and distance.
Distance: 1.3 km - 5.4 km. Completion Time: 40 minutes - 1 hours 15 minutes.

Lake Tūtira
There are two main walks at Lake Tūtira, a short walk along the edge of the lake or a longer loop through the reserve. Both offer great views of the lake as well as native and introduced plant species.
Distance: 1.3 km - 5.4 km. Completion Time: 40 minutes - 1 hours 15 minutes.

Cape Kidnappers/Te Kauwae-a-Māui Walking Track
Follow the beach from Clifton to Cape Kidnappers/Te Kauwae-a-Māui alongside cliffs that show fragmented fault and tilt lines, recording the gradual rise of New Zealand. Black Reef is the first gannet nesting site, 7.5 km from Clifton. A 1 km climb takes you from the shelter on the beach to a benched area on the hill where you can view the second colony, and spectacular views of Hawke's Bay.
Distance: 19 km loop. Completion Time: 5 hour return.
SUGGESTED ACTIVITY - Silky Oak Triple Chocolate Temptation Tour
The Silky Oak Chocolate Co Ltd is a 100% New Zealand owned family business, with a proud reputation for producing exquisite handmade couverture (real) chocolates, using traditional methods. Silky Oak's handcrafted chocolate range has something for everyone and the Triple Chocolate Temptation tour is the best way to fully experience and appreciated these delights. Your guide will first explain chocolate making process at the factory, before accompanying you through the Chocolate Museum covering 3,000 years of chocolate history. The museum tells the story of a food whose past is as rich as its flavour, bought to life with colourfully illustrated texts, life sized tableaux, and a huge collection of chocolate paraphernalia, including a 2,500 year old Mayan Chocolate pot. You then get to sample the fabulous chocolate being produced here, including a chocolate drink (or tea/coffee), chocolate muffin/ slice, served with liquid chocolate and cream at our Café, you'll also enjoy a take home gift, chocolate of course.