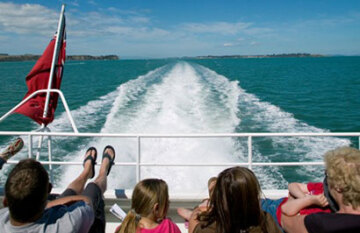 Collect your rental car
Our rental car range includes the latest vehicles from the top suppliers. We have a fantastic range, from economy hatchbacks to prestige sedans and SUVs. Insurance can often be included with a small excess or deductible.
GPS navigation
Navigating New Zealand can be done easily in two ways. If you have a smartphone, you will be able to connect it to the USB of your rental car and your maps and other apps will display on the screen in the centre console of your vehicle, with the sound coming through the car speakers.
If you don't have a smartphone, chat to us to ensure we book you a car with a portable GPS system. Your portable GPS features a simple touch screen interface, with automatic route calculation and turn-by-turn voice-prompted directions, which announces street names. The automotive-grade GPS unit is easy to use and has multiple language options.
Explore Auckland City
On the edge of a natural harbour, 'City of Sails' offers the best of both worlds. Behind a vibrant urban culture are sandy beaches, native bush and lush rainforests. Start your day with a coffee in town and watch the sailboats from the Viaduct Harbour. Wander the docks and take the helm of an America's Cup Yacht for a trip across the Waitemata. If food and wine is more your thing relax on the Quickcat to nearby Waiheke Island for a five star food and wine experience. Hike the summit of Mt Eden, Auckland's highest volcano. Choose one of 800 regional national parks to explore Hunua Falls located within the Hunua Ranges it's one not to be missed. If relaxing is more your style, find a good book and head out to a deserted beach. Try Orewa located an hour north of the city or stay a little closer and head to Cheltenham Beach in Devonport. Make time to ascend the Sky Tower or The Harbour Bridge and spike your adrenaline by bungy jumping off either (or both!). Finish on a high with dinner at one of the many trendy eateries to be found on Ponsonby Road.
SUGGESTED ACTIVITY - Fullers Ferry Auckland to Rangitoto Island return trip
A short 25-minute cruise through the Waitemata Harbour to the Hauraki Gulf delivers you to Rangitoto Island. Rangitoto Island is the largest and youngest of the many volcanoes that make up the Auckland volcanic field. It erupted around 600 years ago, but is extinct now and safe to explore. During your cruise to and from the island enjoy fantastic views of Rangitoto Island and Auckland the 'City of Sails'. On reaching the island you can walk to the summit (1 hour direct) for great views of the Hauraki Gulf and over Waitemata Harbour looking back towards Auckland. There are a number of walking trails to explore this volcanic island, further information can be found at the Department of Conservation website.
SUGGESTED ACTIVITY - Harbour Dinner Cruise with Explore
See Auckland after dark with this amazing on-water dining experience, not to be missed while you're in Auckland. Take in the sights of the Waitemata Harbour - then watch this photogenic city come alive with twinkling lights. Your experienced crew will talk about Auckland's highlights and there will opportunity try your hand at steering.
At our sheltered mooring you'll be served delicious New Zealand fare - choose from a delectable three course menu catered for by a renowned Viaduct Restaurant.