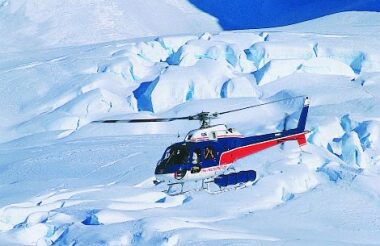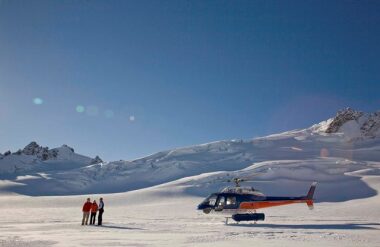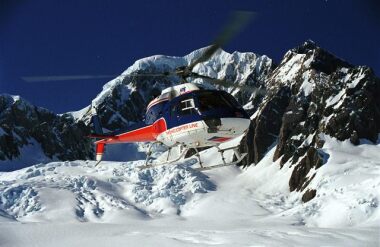 The Helicopter Line is New Zealand's leading helicopter company, operating with a fleet of modern helicopters based at Mount Cook, Twizel, Franz Josef Glacier, Fox Glacier and Queenstown. The scenic flights from these icon locations will take your breath away as you discover that the stunning views of New Zealand's National Parks, glaciers, mountains and lakes are always best from above!

Their helicopters:

The Helicopter Line fleet consists predominantly of European AS355 Twin Engine Squirrels, and AS350 Squirrels. They are ideal for scenic flights, with an open plan cabin making for excellent views. The Helicopter Line has the highest level of Civil Aviation Authority certification for scenic helicopter operations, this involves regular monitoring and audit of all aspects of our operations.
Their tours:
Mountain Scenic Spectacular - HLF3
This premier flight lets you experience two of New Zealand's finest National Parks. Discover the gigantic expanse of the Franz Josef Glacier and Fox Glacier snowfields with a landing at high altitude. Step out of your helicopter and experience how it feels to stand in snow. The flight includes fantastic views of the Tasman Glacier and Mount Cook. Duration - 40 Minutes
Twin Glacier - HLF4
Fly over two of New Zealand's most famous glaciers and land at the head of either the Franz Josef Glacier or Fox Glacier. View the incredible natural phenomenon of the glacier as it winds slowly down the carved valleys from its origin in the mountains high above you. Duration - 30 Minutes
Fox Glacier and Mount Cook - HLF4F
(Available only from Fox Glacier)
From Fox Glacier village fly over the legendary Fox Glacier and snowfields, and land in the snow above the icefalls. Explore the majestic west face of Aoraki/Mount Cook, before descending into the valleys. Duration - 30 Minutes
Neve Discoverer - HLF5
The perfect opportunity to get up close to the glaciers and touch snow. You'll be captivated as you lift off and fly up and over the Franz Josef Glacier or Fox Glacier and experience the solitude of a landing in this natural alpine wonderland. Duration - 20 Minutes
Heli Hike
(Available from Franz Josef Glacier only)
Combine an awesome helicopter flight over the Franz Josef Glacier with a unique guided walk amongst the ice caves, pinnacles, and seracs of this pristine alpine environment. Duration - 3.0 Hours (flight and hike).